Adult Professional Mirror-Coating Goggles Mask With Anti-fog (Silver)
Adult Professional Mirror-Coating Goggles Mask With Anti-fog (Silver)
Out of stock
Polycarbonate Lens & Clip.
Soft Silicone Gasket & Strap.
Polyurethane Joint.
100% UV Proof Protection & Anti-fog for maximum eye protection.
Auto-adjustable buckle.
Wide Screen  180⁰ View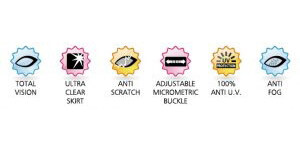 DIRECTION FOR USE :
Put the goggle inside upward and hang headstrap on themiddle of underneath.
Press goggle to your eyes.
Headstrap around the back head with both hands, then take off hands.
Separate the middle of headstrap, then around the back head to finish fixing.
MAINTENANCE :
Rinse with cold fresh water after every use. Dry in shaded area and avoid direct sunlight. Store in cool dry place. The inner lenses are treated with anti-fog coating to give excellent vision. DO NOT wipe or rub inner lenses.
Cautions : Please note the following cautions before using the goggle.
A treatment has been donw to make the lenses vapor-free, please wash the goggle gently in clean water after use, shak off water-drop and then dry the goggle with a drier.
Please keep the goggle in a dry place for a better and longer vapor-free life.
DO NOT wipe the lenses with a towel which may hurt the lenses.
Please keep the goggle away from heat or hor water, which may deform the goggle.
Please allow only sight motions with your facial muscles while wearing the goggle or the water may leak in. Please adjust properly the nose-belt and the head-strap before getting into water.
Please stop using the goggle if it causes discomfor to your eyes.